THE PHENIX AWARD 2023
The 16th Phenix Award unveils its exceptional jury
This year, the 16th edition of the Phenix Prize is hosted by the Town of Grasse, the beating heart of modern perfumery.
***
Chaired by Michel Almairac, its exceptional jury brings together :
Émilie Coppermann, Delphine Jelk, Shyamala Maisondieu, Dominique Ropion and Maurice Roucel.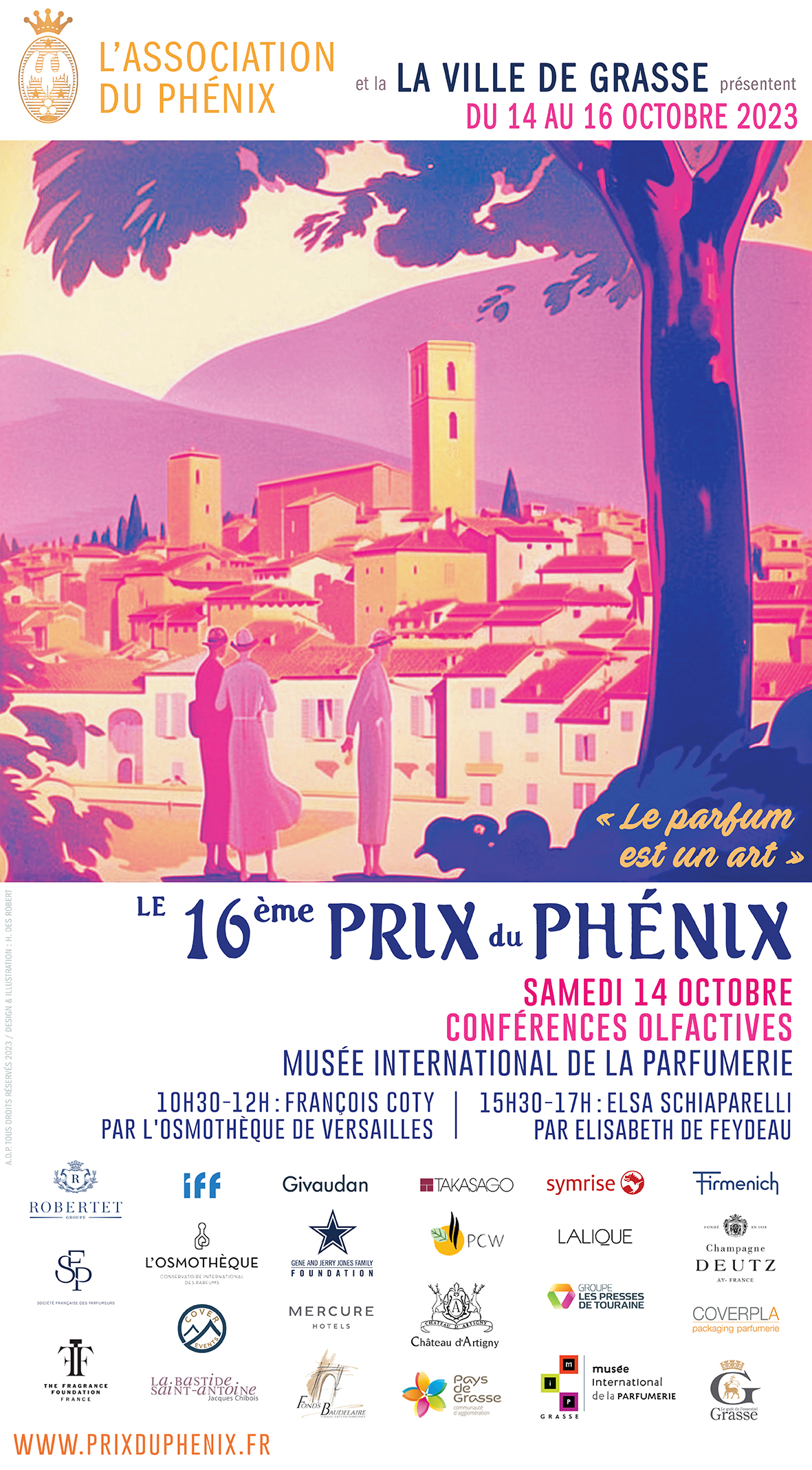 Three awards will be given to creative perfumers :
the Phenix Award, the Honor Award, the International Phenix Award.
A fourth, the Special Prize, will reward an initiative that values the heritage of perfume. With the support of the Mayor of the City of Grasse, Jérôme Viaud, the ceremony will take place at the Bastide Saint Antoine on October 16, 2023 from 6:30 pm. As a preamble to this event, the Phenix Association is hosting two olfactory conferences hosted by the International Perfumery Museum on Saturday, October 14.
At 10:30 am, the Osmothèque de Versailles will host the first dedicated to Joseph Marie François Spoturno, the father of modern perfumery.

At 3pm, historian Elisabeth de Feydeau will animate the second dedicated to Elsa Schiaparelli.
***
THE PHENIX AWARD

 
A NEW BIRTH FOR THE FRANÇOIS COTY AWARD 
In 2023, the Association and the Prix François Coty marked a page in their history by changing names to Phenix.
The Phenix, a universal symbol of rebirth, has always adorned the family coat of arms, inspiring this new cycle. Associated with the fire element, it perfectly embodies the flame and passion of perfumers-creators that this international award, the most prestigious in the world of perfume, has been rewarding since 2000.
***
The members of the Jury 2023 :
Delphine Jelk
Shyamala Maisondieu
Emilie Coppermann
Maurice Roucel
Dominique Ropion
Jury chaired by Michel Almairac