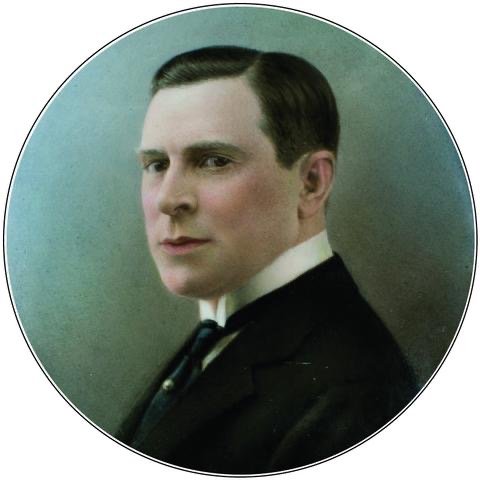 François Coty
A genius perfumer, « father of modern perfumery », « Napoleon of perfumery »…numerous prestigious titles for a man who, during a bright and brief life, brought a fame to perfumery.
François Coty was born in Ajaccio, Corsica in 1874, christened Joseph-Marie-François Spoturno. Having accomplished his military service in 1898, he moved to Paris as part of the entourage of Corsican politician Emmanuel Arène (1856-1908).
Following training at the Chiris establishment in Grasse, Coty became an accomplished 'nose'. In 1904 he successfully marketed his first perfume, «La Rose Jacqueminot», the first of several stunning creations: L'Origan, Ambre antique, Jasmin de Corse, and Chypre… created in 1917, first of a new olfactive family. Emeraude, Paris, L'Aimant…
By then the fragrance revolution was at its height and could be shaped into three dimensions :
The art of composition : All of Coty's perfumes incorporated a scholarly and erudite mix of pure ingredients and synthetic chemicals.
Marketing : The creation of a rich array of products around one fragrance : rice powder, healthcare products for hair, face, body…
The art of product presentation and display : François Coty worked very closely with René Lalique to create perfume bottles, along with other great artists of the time to create sublime perfume boxes, within which the bottles of precious fragrance would rest.
As of 1906, Coty opened in the U.S.A. then Russia, United Kingdom and across the world. By the end of the 1920's, at the head of a prestigious industrial group, he was amongst the most powerful entrepreneurs – and the richest man of France.
Towards the end of the 1920's, Coty was overtaken by several coinciding events: the 1929 stock market crash, a ruinous divorce and enormous sums of money swallowed up by his political activities. On July 25th 1934, victim of a stroke, he died at his property in Louveciennes.
In the 21st Century, the genius of his heritage in perfumery endures through the industrial group Coty Inc, the world leader in perfume distribution, and his legendary perfumes, part of the rich French heritage presented to public by the François Coty Association with the participation of the Osmothèque.